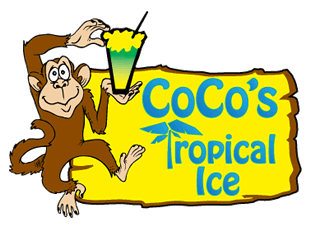 Coco's Tropical Ice - Flavors
Ice Flavors - Gelati Flavors - Soft Serve Flavors - Note: Giffords Famous Ice Cream rotates with the seasons. Call for the latest flavors!
Ask about our Party Buckets! They make great mixers.
---
Mango
Tropical and Fruity!
Margarita
Tart with hints of lime. A thirst quenching flavor.
Pina Colada
Delicious chunks of pineapple and coconut.
Coconut
Coconut milk, fresh cream, mixed with shredded coconut.
Root Beer
A classic old fashioned flavor!
Lemon
Traditional Italian lemon Ice!
Blue Raspberry
A fan favorite! Try it mixed with Cherry.
Cherry
Sweet cherry Ice, with a touch of tart.
Strawberry
Refreshing Ice with chunks of strawberry.
Mint Chocolate Chip
Mint Ice made even better with chunks of yummy chocolate.
Orange
All-natural citrus goodness.
Chocolate Peanut Butter
A crave worthy combination of chocolate Ice swirled with creamy peanut butter. Perfection.
Cotton Candy
Melt in your mouth flavor. Icy fun in a cup.
What's Your Favorite Flavor?
What Fresh Flavor is Your Favorite?
×
Coco's Favorite
Mango Ice & Vanilla Ice Cream.
Root Beer Float
Root Beer Ice & Vanilla Ice Cream.
Peppermint Patty
Mint Chocolate Chip Ice & Chocolate Ice Cream.
Creamsicle
Orange Ice & Vanilla Ice Cream.
Mounds Gelati
Coconut Ice & Chocolate Ice Cream.
Chocolate Covered Cherry
Cherry Ice & Chocolate Ice Cream.
Auburn Rocket
Blue Raspberry & Vanilla Ice Cream.
Strawberries and Cream
Strawberry Ice & Vanilla Ice Cream.
Patriot
Blue Raspberry Ice & Vanilla Ice Cream with a Cherry Ice Layer.